Tactical
Type
Assault rifle
Usage
short range to medium
Range
500m
Ammunition
7.62x39 mm Soviet (Plentiful, from enemies)
Reload time
2-3 secs
Noise
Very noisy
Stealth
No stealthy usage
Technical
Scoped
No
Silenced
No
Secondary
Melee
Rounds per magazine
32 (IGI 1);
30 (IGI 2)
Maximum ammo
32+128 (IGI 1);
30+300 (IGI 2)
Gameplay
Playable in
IGI1, IGI2
Appearances
All levels in IGI1
Found
Only from enemies
Related
Similar to
unknown
The AK-47 is an all-purpose automatic assault rifle, that is effective from distances although it is not scoped. It is usable for close-quarter battles, since like a submachine weapon, it has a good reload-rate. It is a deadly weapon capable of a kill in 1-3 rounds, wherever they hit on the body. The AK-47s that appear in both IGI games, are actually Norinco Type 56 (AK-56) which can distinguished by their hooded sights.
Referred to as "AK47" in IGI 1.
The most common weapon used by enemies; each dropped AK-47 contains 32 rounds.
Rate of fire: 900 RPM
Long distances: Has somewhat mediocre accuracy and is usable at 150 meters or less, compensate by firing many three-round bursts. Enemies won't spot the shooter, and won't retaliate.
Short distances: Very accurate and powerful being an assault rifle. Great replacement to the deadly Jackhammer shotgun.
Despite this gun's commonness, there is no ammo box for it, even though a 7.62mm ammo box exists in game data files.
Again the most common weapons used by enemies, containing 30 rounds. In medium and hard difficulty, the dropped AK-47's have partially loaded magazines, which is the same to nearly all firearms in the game. Typically wielded by Russian and Lybian guards and Chinese base defense and strike teams.
Rate of fire: 600 RPM
Long distances: Has excellent accuracy making it an ideal replacement to a sniping rifle. Even when firing single rounds a headshot will result in an instant kill. Effective from great distances if aimed anywhere on the body. The Binoculars can be used as a scope, making aiming stationary targets from afar easier. Even if used when partially behind cover, enemies easily spot the direction and location of the sniper, and will call or run for help and attempt to surround the player. Eventually, enemies will fire back with a great deal of accuracy even when wielding submachines such as MAC-10 or Uzi.
Short distances: Very accurate and deadly being able to kill in 1-2 rounds. Is a noisy weapon and immediately alerts guards to the player's presense, and causes a commotion that eventually brings enemy reinforcements to the scene. Effective if the player can fire quickly and accurately at moving targets, since the enemy will never stand still with the player in sight.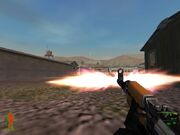 Ad blocker interference detected!
Wikia is a free-to-use site that makes money from advertising. We have a modified experience for viewers using ad blockers

Wikia is not accessible if you've made further modifications. Remove the custom ad blocker rule(s) and the page will load as expected.